To those who are considering the next step towards the implementation of work-style reform, WHERE is deploying an IoT platform to visualize the location of people and objects, utilization rate, communication activities, etc. in the office and to solve customer problems such as inadequate meeting room, promotion of interaction between employees, and thorough attendant management, to improve business operations.
■Main functions and services
<Employee location control>
Attendance management is performed based on the information gathered about employees' presence in the office and their entry and exit control.
<Meeting room and Toilet management>
<Goods & doc. management>
We manage the whereabouts of goods and documents. It is effective for the management of office equipment, such as seal and tape printing machines (tepra) which can easily disappear in the office.
<Link with office furniture and visualize>
Link with office furniture and visualize the relationship between the users and the furniture.
Conference desk sensor
Cushion sensor
Air-conditioner​ temperature and humidity sensing
Switching lighting in conjunction with a human sensor (PIR sensor)
Through the EXBeacon platform we can collect enormous location and time data. We provide various analysis services according to purpose from simple position information analysis (heat map, route analysis) to structural analysis.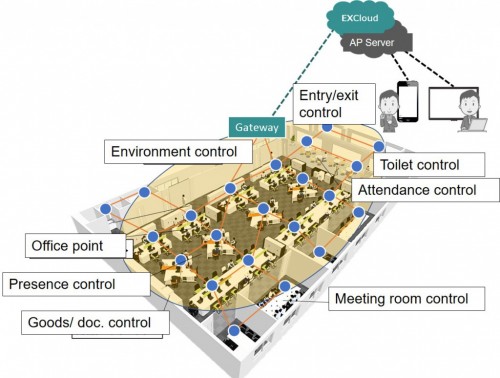 ■ Price (a rough standard)
This is a case where only employee location management is performed (part of EXOffice functions).
<Employee attendance management (free address)>
[Customer] Docomo CS Chiba Branch
A system that can easily manage the presence of employees in a free address office (aka Hot desking office).
EXBeacons are installed at various offices to receive radio signals from beacon tags carried by employees. From the radio signals received, the system figures out the seat location of the employees.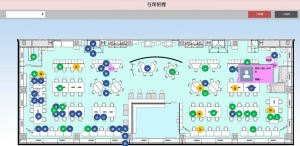 <Employee attendance management (fixed seats)>
[Customer] Kyowa Exeo Headquarters
In the free address office we figure out the current location of the employees, but fixed seat office, we ascertain the presence status. For example, "presence" refers to whether or not the employee can be reached on an extension number, and based on the collected position information, such determination is made.