EXOffice and EXOffice Light
New tool to support the new normal office
"EXOffice" is a solution that constantly collects employee location information and environmental information and provides a large number of services that are indispensable for the new normal office. The IoT infrastructure "EXBeacon platform" should be installed in the office.
On the other hand, EXOffice Light is a simplified version of EXOffice prepared for companies using supplied smartphones. It provides three services. The office IoT infrastructure utilizes the smartphone network that the customer has.
How can office workers spend a fulfilling time while teleworking has become normal, offices have been dispersed, and work styles have changed significantly? Can managers take control of dispersed people and work? "EXOffice" will respond to these big issues as a "tool to realize a digital twin".

Fully compatible with the new normal office
The definitive office services
EXOffice is an indispensable service for the new normal office. Due to Covid-19 pandemic, telework has become established due to Covid-19 pandemic, and the office has become a place to visit on necessity, in that way, the work style as well as the function of office are changing. EXOffice realizes a digital twin of office by introducing IoT infrastructure. It constantly collects information such as the location information of people and work environment information, and provides many office services.

Package 3 services
Cost saving model using smartphones
EXOffice light packages three commonly used office services.
In addition to the "Attendance management" and "Telework support" required for the new normal office, it provides "Office diagnosis", a service that analyzes collected data, that includes "Automatic daily report creation", "Communication analysis" and "Office density display" that serve as infection countermeasures. "Hoteling" can be provided as an optional service.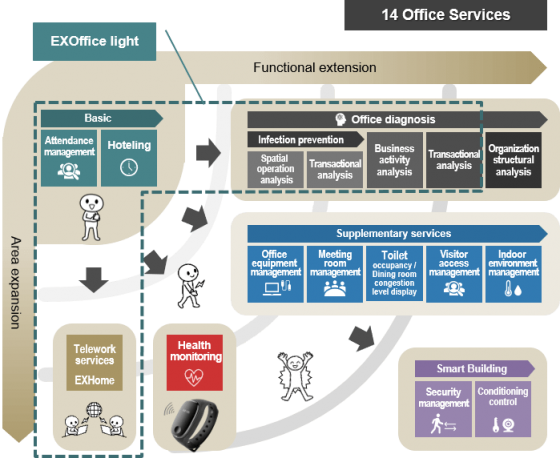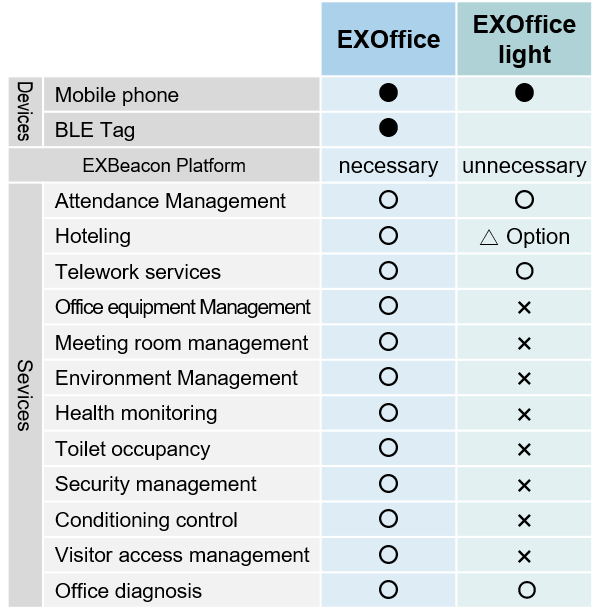 Reference: New normal of office dispersion + ABW
Due to the corona virus, the way of working changed drastically in a short time.
However, the changes in working styles began a while ago. This is a concept called ABW (Activity Based Working), in which you can freely choose the time and place to work.
This is a new way of thinking that people can freely choose the place and time to design their own life more positively as not only offices but also workplaces are dispersed to homes and shared offices. Isn't it difficult for companies to resist this trend?
However, in such a super-dispersed society, it is certain that decentralization has increased complexity and caused various harmful effects. "EXOffice" is a tool that eliminates the harmful effects of dispersion through the realization of digital twins. Let's proceed ABW with EXOffice!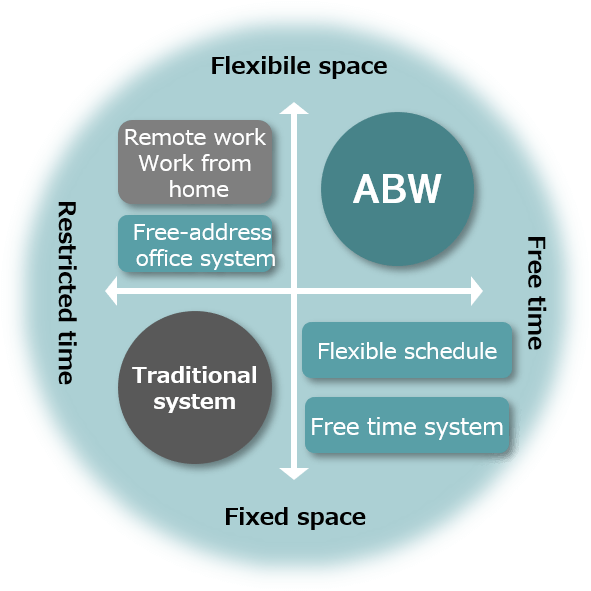 1. Attendance management/Meeting room management
Display people and things on the floor map
The location of the employee is displayed on the floor map. Searching for a specific person is also easy. Click the location icon to display the person's attributes (name, photo, employee number, phone number) on a pop-up screen. The location icon can be specified in various shapes and colors.
Solved the problem of finding people with free addresses
There are "fixed seating" and "free address" services for attendance management. In particular, when a free address is adopted, the problem of finding people becomes normal, but attendance management is essential to solve it. Even with fixed seating, you can make phone calls and chat after confirming the target person's whereabouts, for instance, whether or not attending a meeting, which will dramatically improve your work efficiency.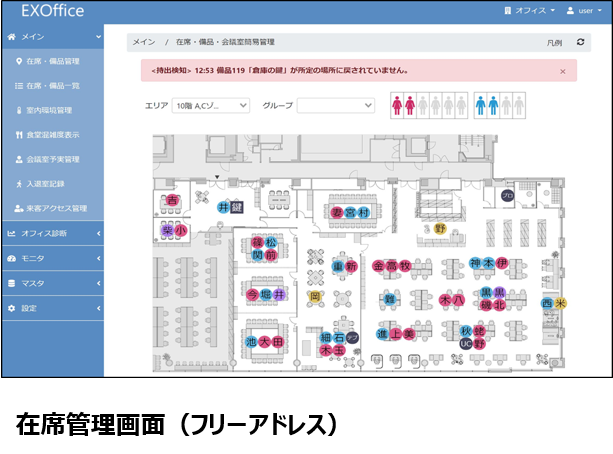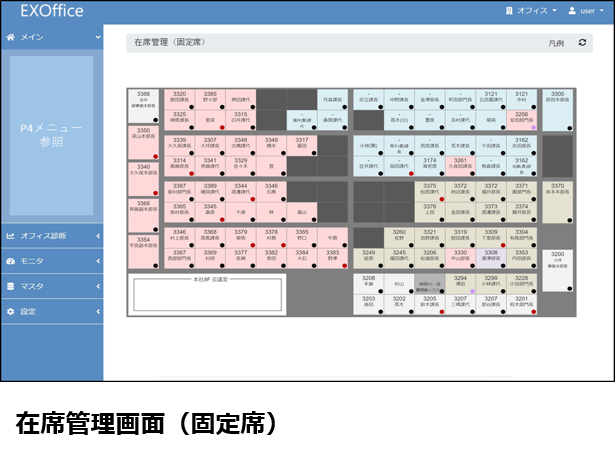 Visualization of actual usage
The usage status of each meeting room is displayed. Not only whether it is in use or not, but also by importing the meeting room reservation information from Outlook etc. and combining it with the reservation information, it will show "not in use in spite of reserved" and "in use without reservation". You can also tap the conference room icon to display detailed usage status.
Data analysis such as reservation occupancy rate
Furthermore, based on the collected usage record data, it analyzes (1) reservation rate, (2) occupancy rate, (3) reserved occupancy rate, (4) non-reserved usage rate, and (5) number of empty reservations, and displays them in a graph. Based on these analysis result, you will know which meeting room is frequently used, or which department is not good in meeting room usage, and use it as a reference for changing the layout of the meeting room.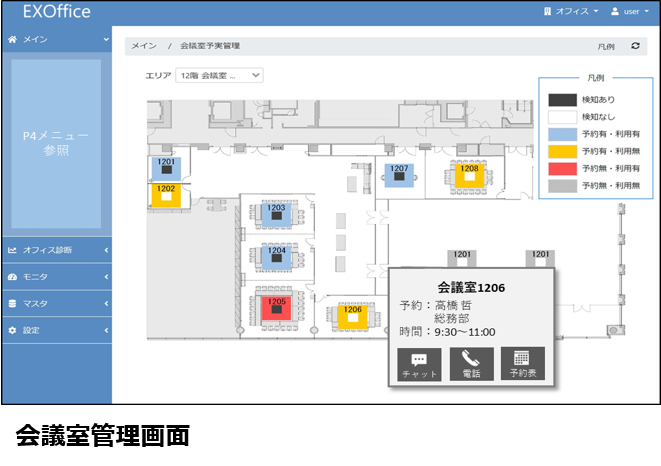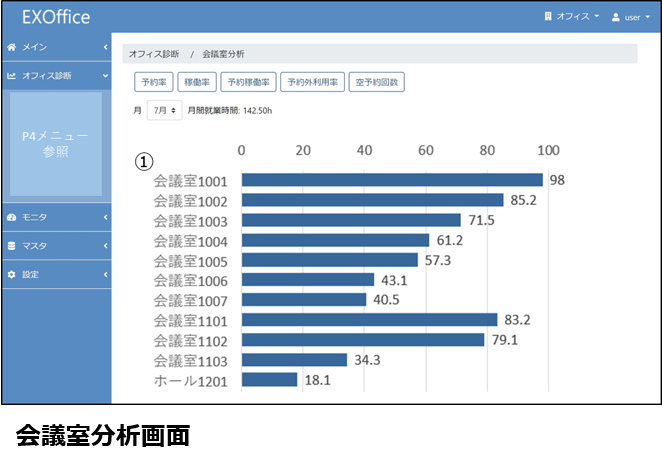 2. Hoteling / Telework support

What is Hoteling?
"Hoteling" is a system that reserves and uses a workstation (office) when you want to use it. It is a mechanism to reserve seats in advance according to the work to be done in the office and the content of the meeting.
It has the effect of securing social distance in the office and reducing office space, and is attracting attention as a new normal for office use.
Understand not only reservations but also actual usage
This service, unlike conventional hoteling that only has a seat reservation function, automatically collects the actual usage such as the start of use of reserved seats and who is using them. There are various methods such as the Beacon method, which automatically checks in when the user is seated, and the QR code method, which manually checks in, and the customer can select as they wish.
The reservation system allows you to easily select and reserve a seat on the floor map displayed on the dedicated app, similar to the online seat reservation for the Shinkansen.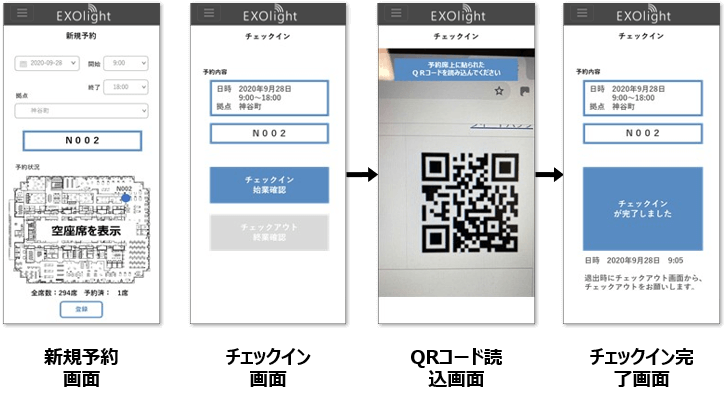 When you work from different locations, such as your home, shared office, or visiting customers, you can use your smartphone to check the start of work (check-in) and the end of work (check-out) to ensure thorough attendance management.
Daily business reports for each employee are automatically created based on office attendance management data, start/end confirmation data, and entry & exit management data.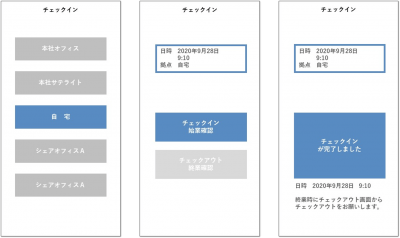 Telework support service: EXHome
"EXHome" collects more detailed data on the status of working from home. Having introduced a management IoT infrastructure at home and it automatically collect various information such as presence information, own room environment information, and health information.
Click for the more information
EXOffice realizes the "digital twin" of the office by introducing the IoT infrastructure to the office. "Office diagnosis" is one of the EXOffice services that analyzes the vast amount of office-related information collected by the IoT infrastructure to visualize daily work styles and the way office space is used, and to support the discovery of problems.
There are three main types of analysis: "Spatial operation analysis," "Transactional analysis," and "Business activity analysis." Each analysis is unique, and you can display analysis results according to your purpose in combination of organizations, locations, and periods. In addition, "My Page" is available where individual employees can refer to their own data cross-sectionally.
Spatial operation analysis
Based on the huge amount of office data collected, it analyzes meeting room occupancy rate, occupancy rate by organization, floor density, etc. It provides these analysis results on a dashboard on a weekly basis.
In addition, we will also judge the office investment priority by combining the satisfaction survey.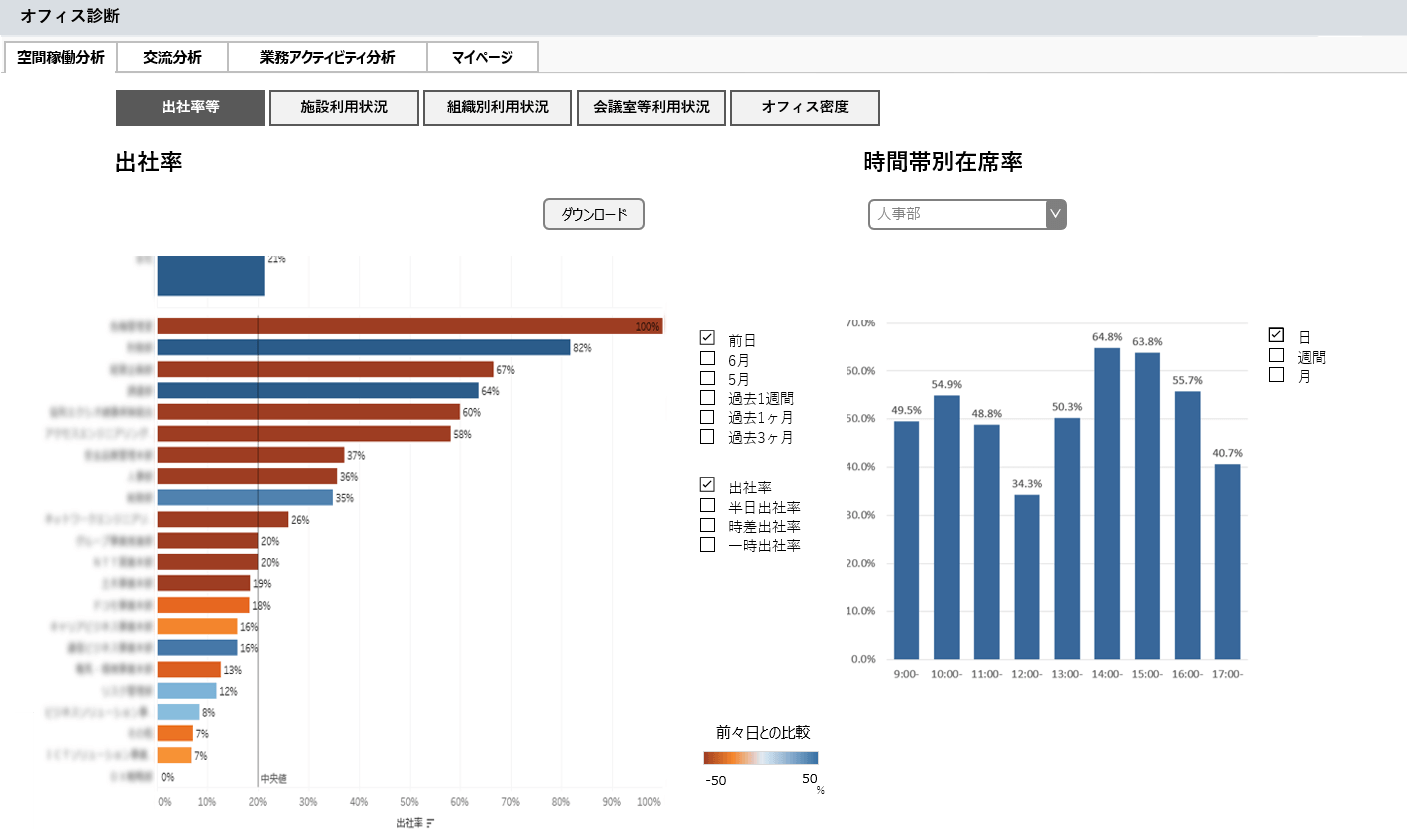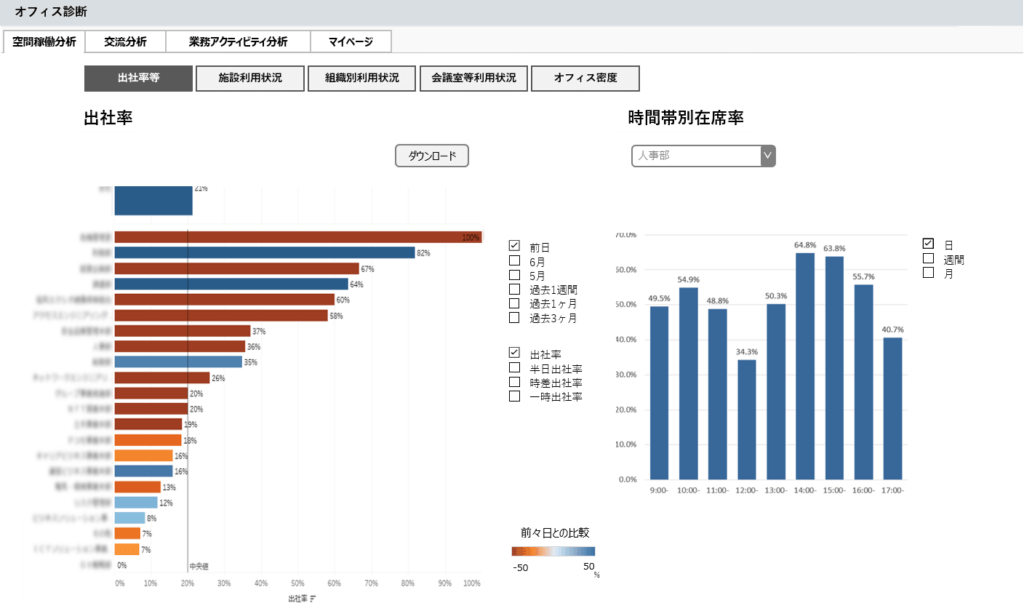 Based on the location information of employees, it will generate a communication data about who was close to whom, and clarifies the proximity information and the attendance rate by organization. In addition, it performs organizational network analysis (graph analysis) based on communication data and utilizes it for office layout and organizational layout. In this case, use of a card-type BLE tag collects more detailed data.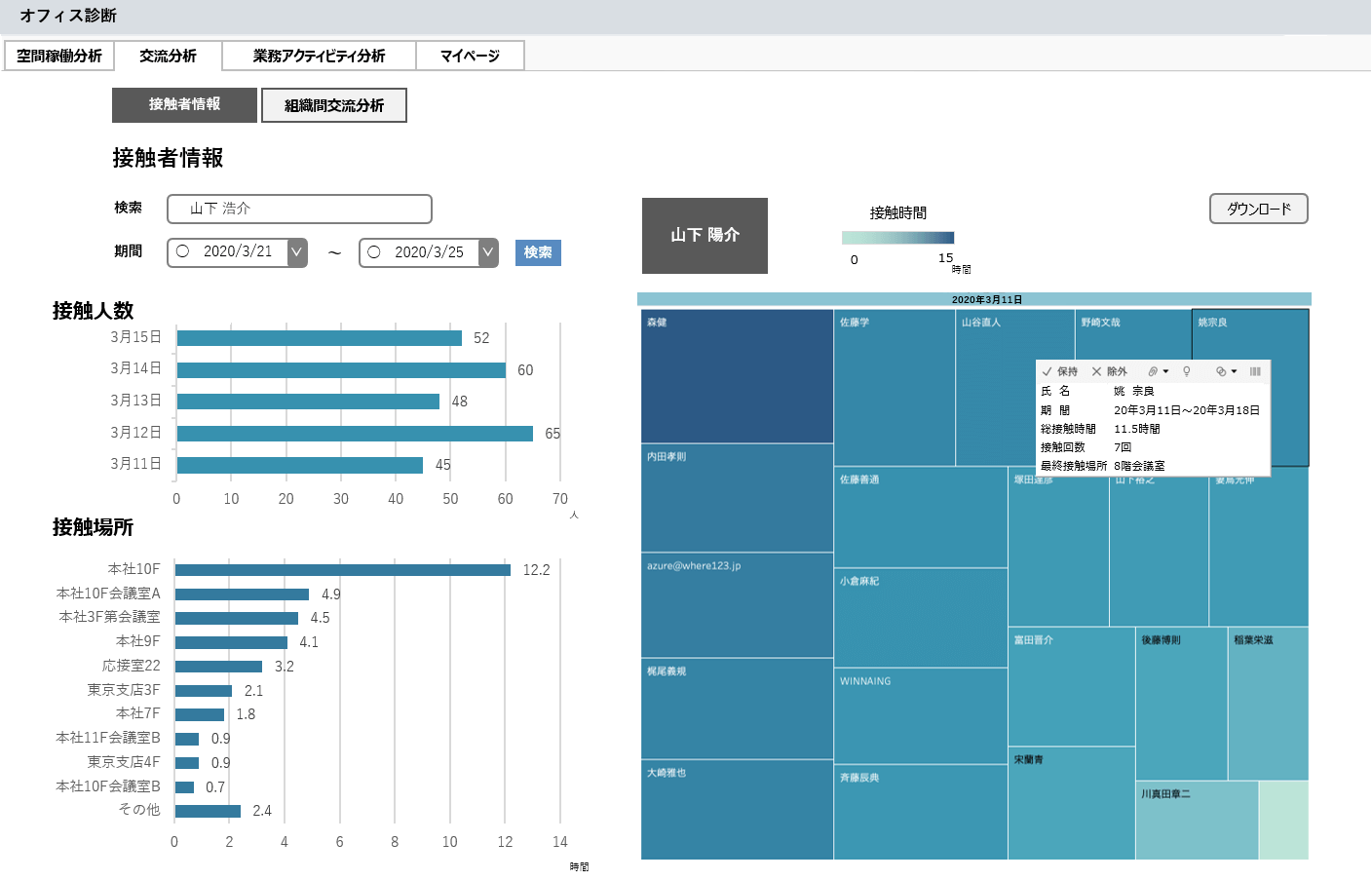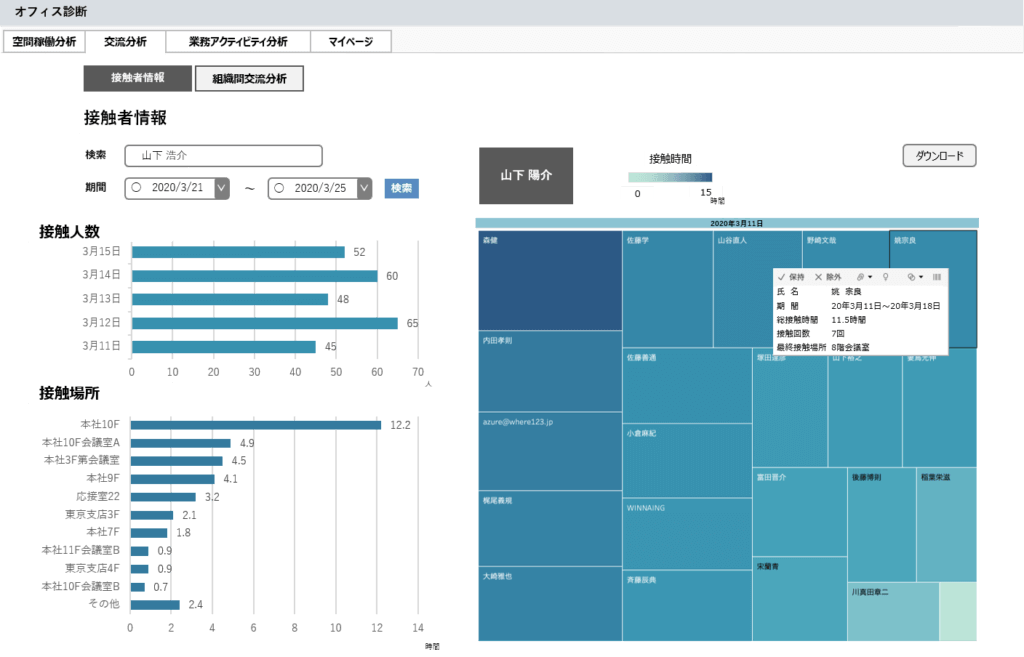 Business activity analysis
It will clarify "business activities" based on the collected location information and sensor information. It analyzes business activities by focusing on the actual work itself. Therefore, the link between location and work is important.
Modern offices offer a variety of locations, from spaces for concentration, co-workspaces, and small meetings to traditional meeting rooms. Each location is tied to work, and by knowing the location of employees, it is possible to create a daily work report for each of them.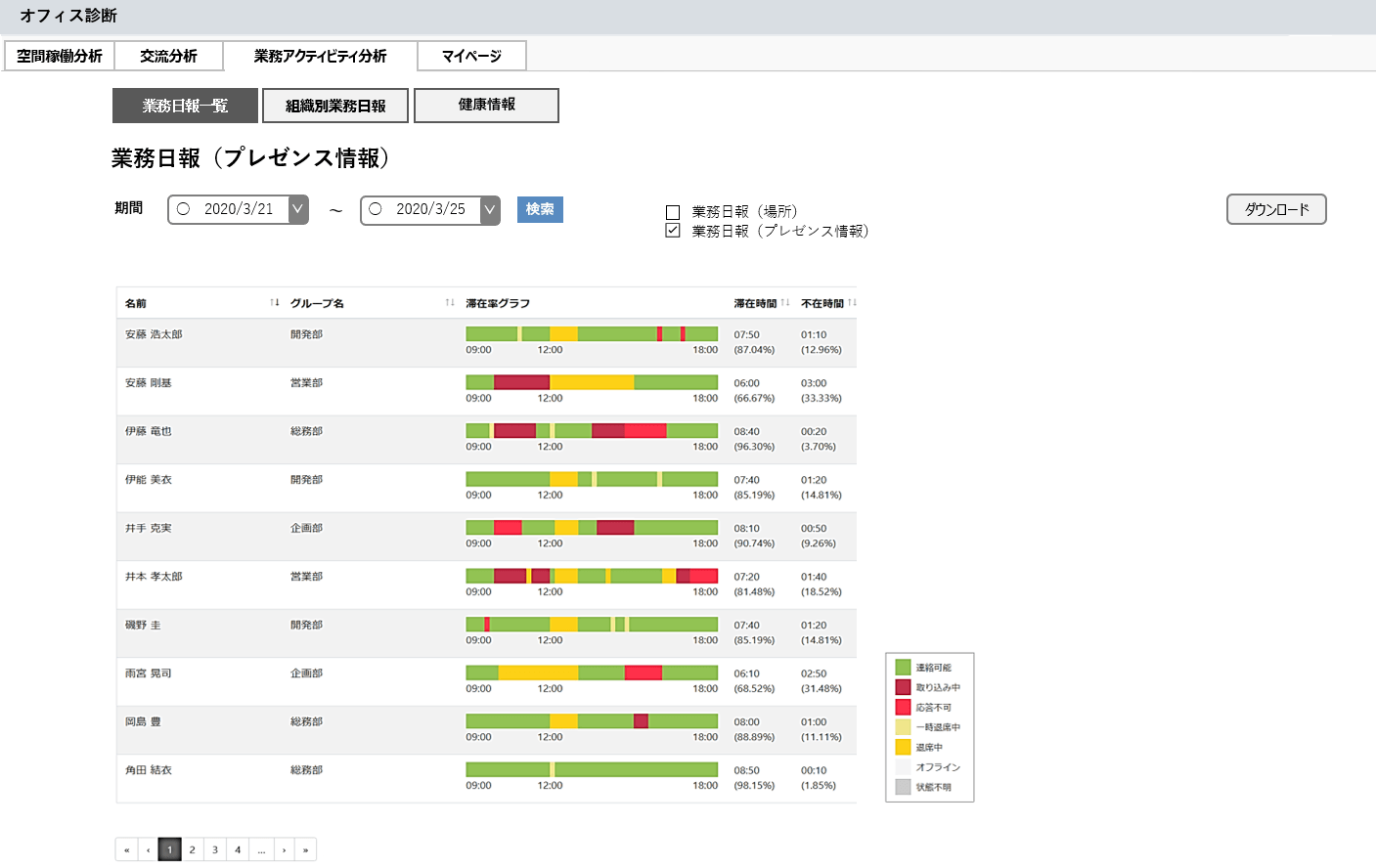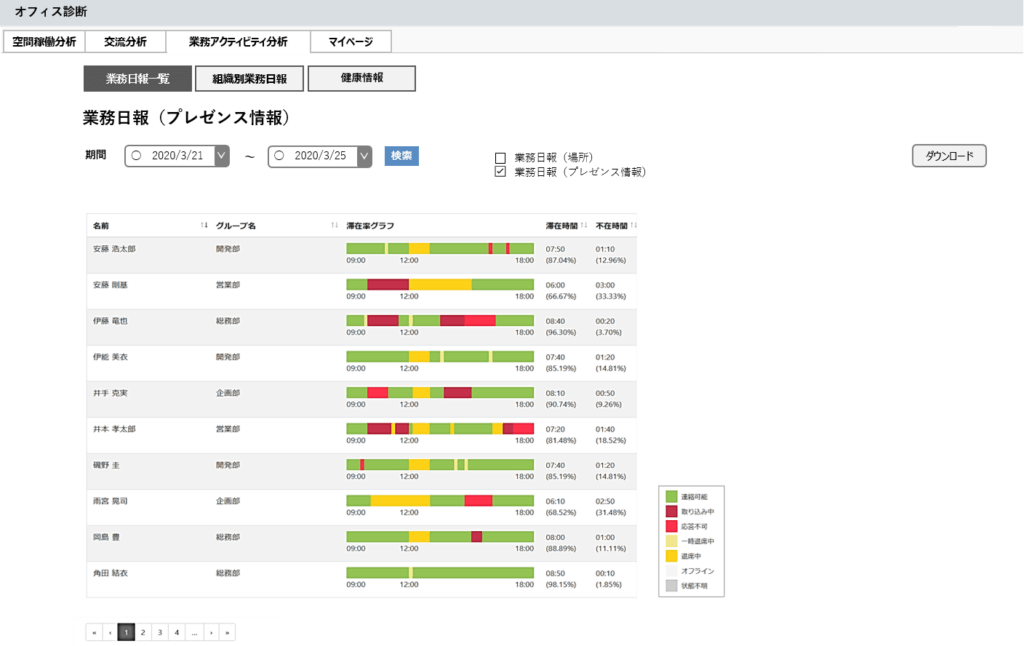 "My Page" is a cross-sectional reference for individual employees who are users.
You can refer to daily business reports (location/presence information) and data such as working hours, health information, and degree of interaction.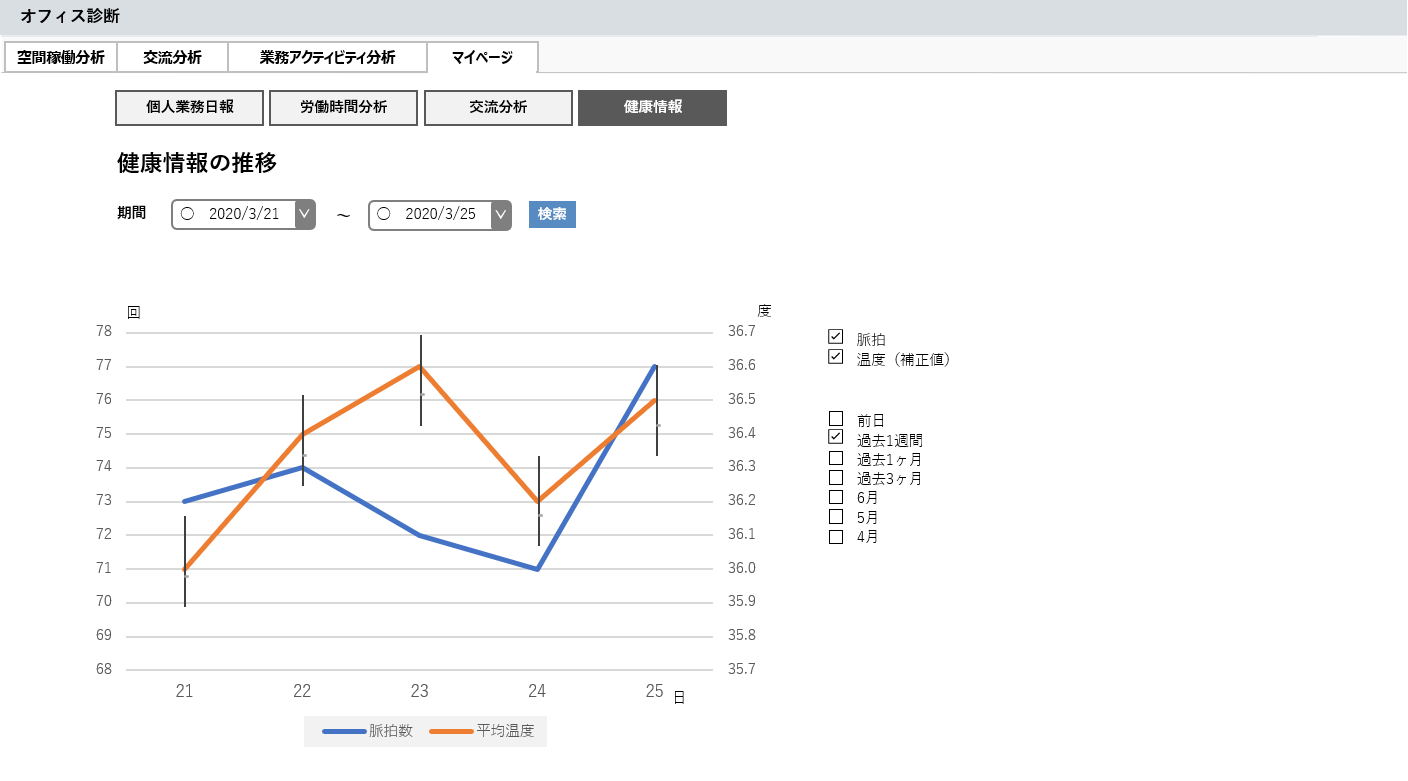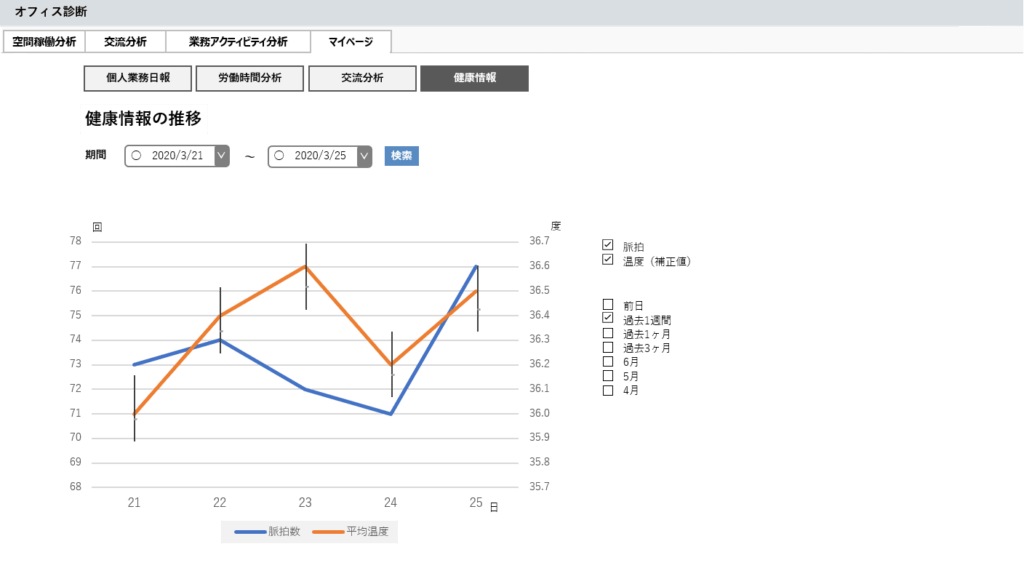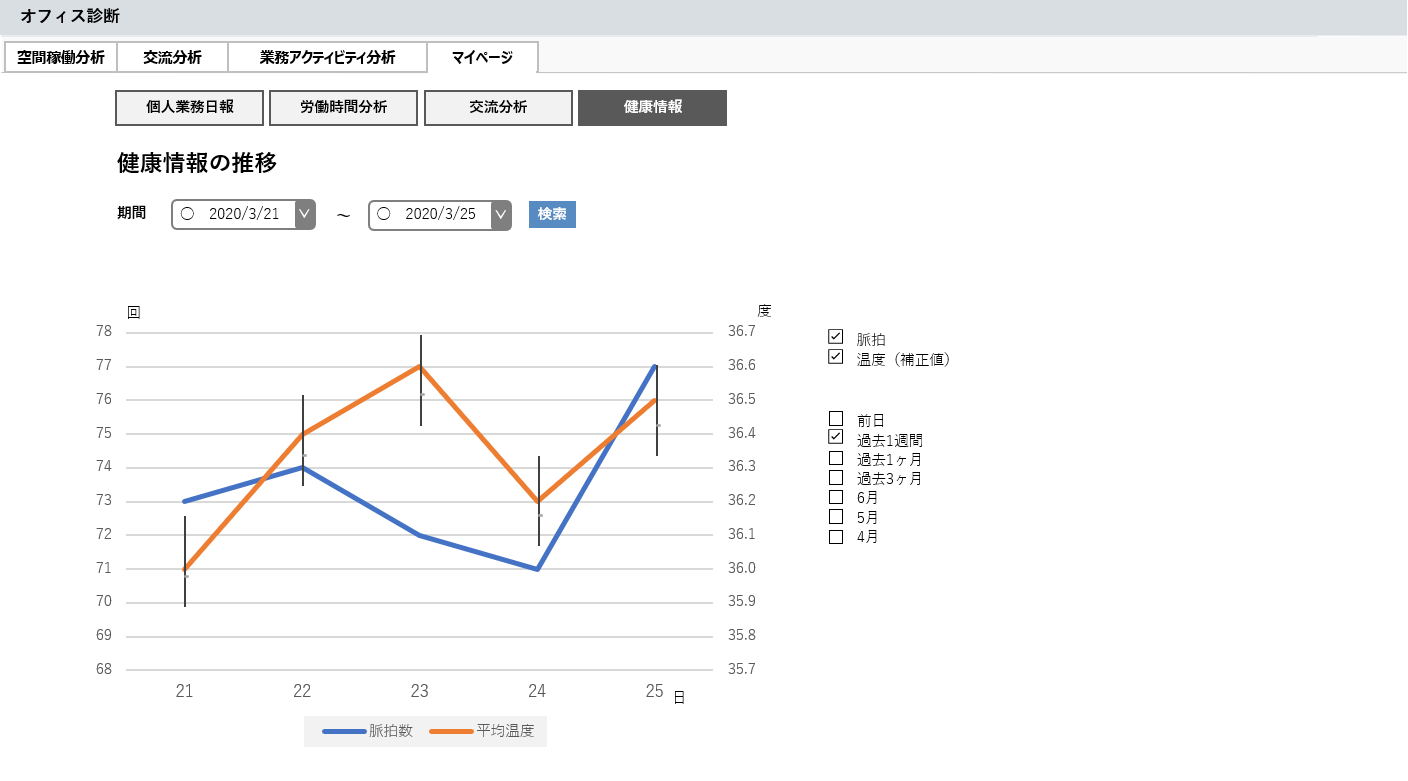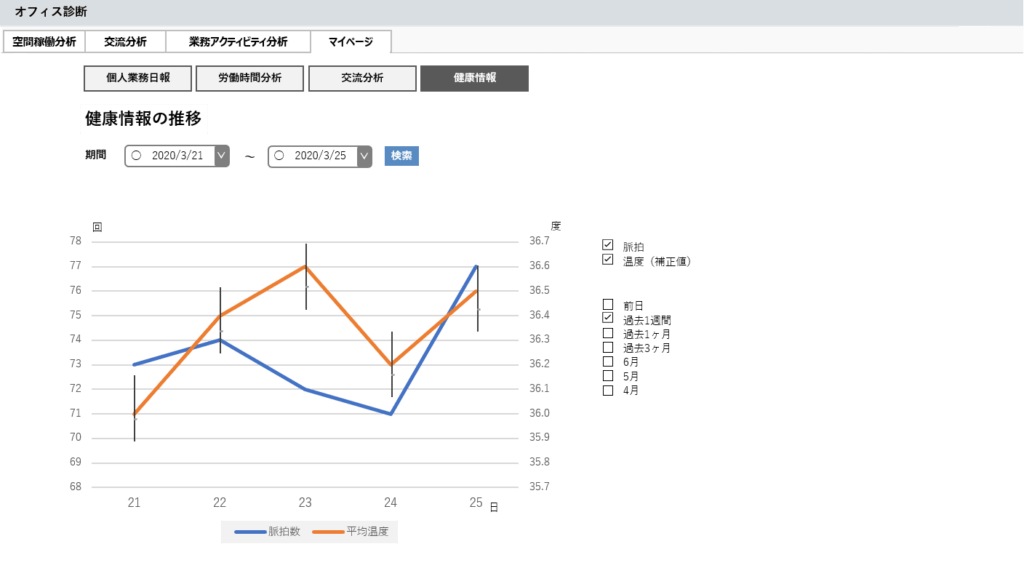 4. Amazing function expansion ability
Monitoring the health of all workers
It is a service that collects "large number" health information "always" and "automatically" to help prevent heat stroke and detect abnormal people.
The IoT infrastructure "EXBeacon Platform" introduced to the office by having employees wear wearable terminals (EXVital) constantly collects health information from many employees' terminals, aggregates it in the cloud, and uses the dashboard to visualize health information and location information of each employee.
In general, wearable terminals cannot collect information on a large number of people at the same time. However, as "EXVital" has adopted an advertising method that does not require a pairing connection, it made it possible to collect information in large scale, simultaneously, constantly, and automatically.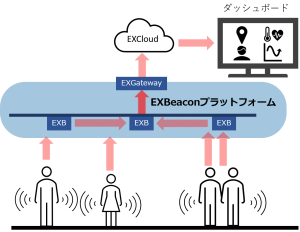 Toilet occupancy / Dining room congestion level display
Reduces stress for use
Utilizing magnet sensors, motion sensors, etc., it displays per floor the usage status (occupancy) of the toilet with the number of vacant rooms over the total number of rooms. The usage status (congestion level) of the cafeteria is displayed using the motion sensor. Congestion level (%) shows the number of current users vs total seats and the total number of 30-minute users for each table.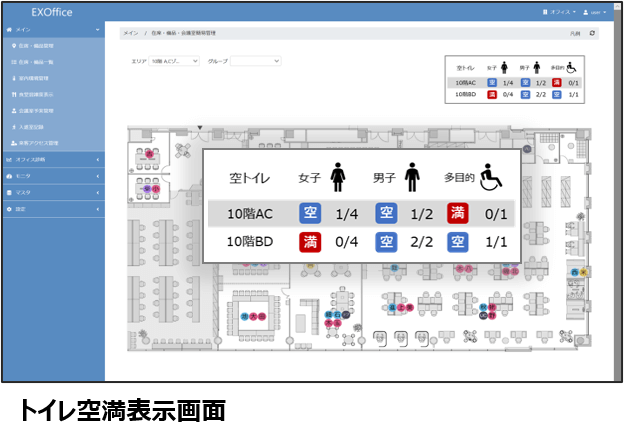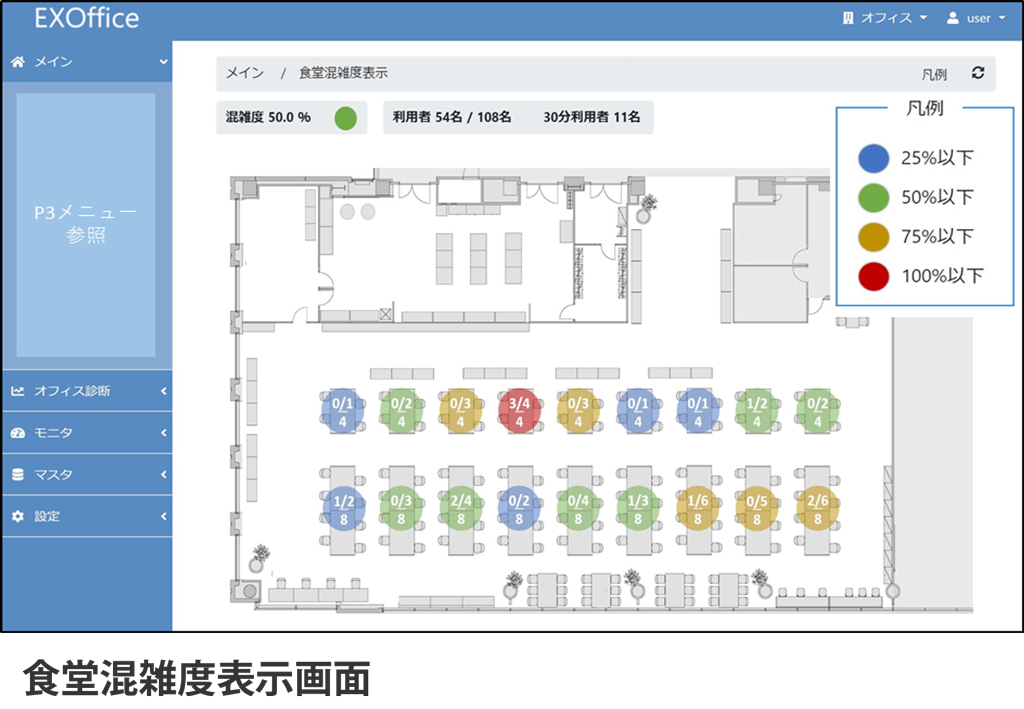 Indoor environment management / visitor access management
An alert will be raised when someone enters the no-entry zone
Setting the no-entry zone, and when a visitor with a guest card invades, the icon flashes on the floor map, and at the same time, the intrusion information (detection start time, card number, zone name) is emailed to the specified administrator. It is easy to specify the no-entry zone.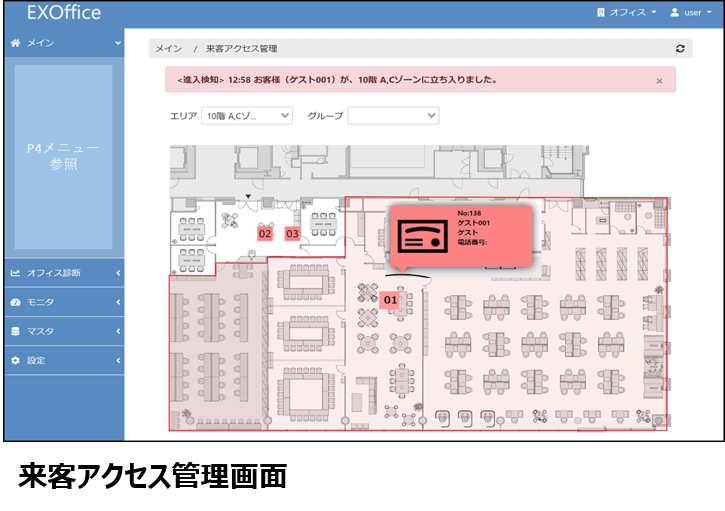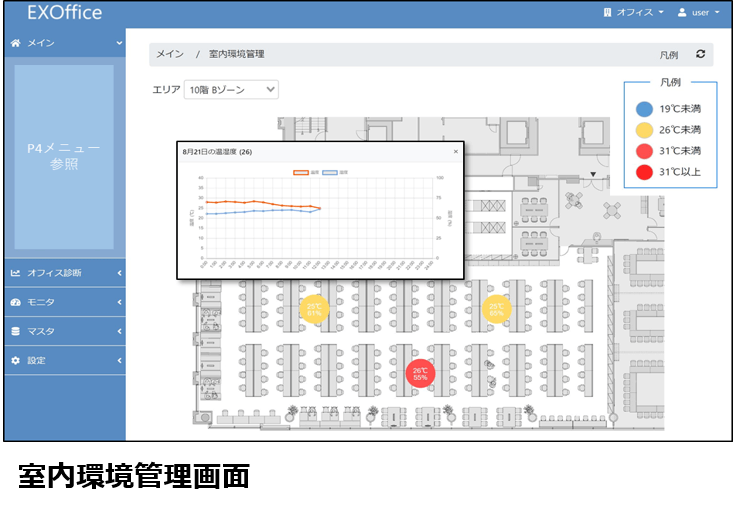 Easy-to-manage CMS screen
The CMS screen is also substantial. It is easy to register/delete additional employees, replace maps, add/change icons, and monitor the status of BLE tags and terminals.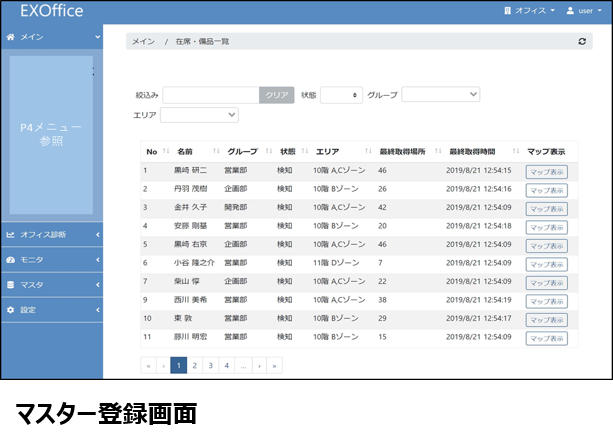 In the office building, the tenant part is provided with "EXOffice" service, but the building management (shared) part is provided with services for entry & exit management / key-linked authentication management.
Introducing the IoT infrastructure "EXBeacon Platform" in the entire building, digital twin for the entire building will be realized.
In addition to high-quality and low-priced "security management services" compared to conventional building management services, "environment-linked air conditioning and lighting control services" linked to environmental sensing inside buildings will also be provided.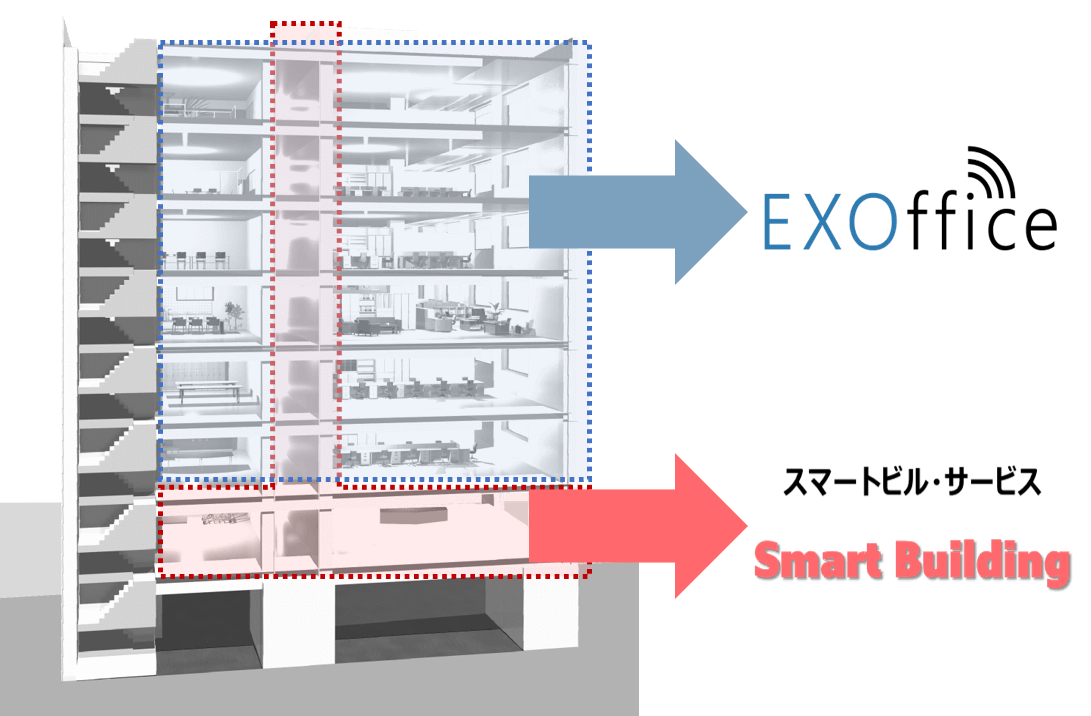 Security management (entrance & exit management / electronic lock opening/closing)
EXBeacon at the door entrance receives the radio wave of the employee's BLE tag, authenticates it touchless, and unlocks the door. (In some cases, it is combined with a PIR sensor for higher accuracy.)
When the last person leaves the floor or the building, machine security will be automatically started 30 minutes after a card-type tag is no longer detected without operating with a card reader.
In order to strengthen security for the entry to the building, two-factor authentication is adopted by using the card-type BLE tag held by the employee and the numeric keypad.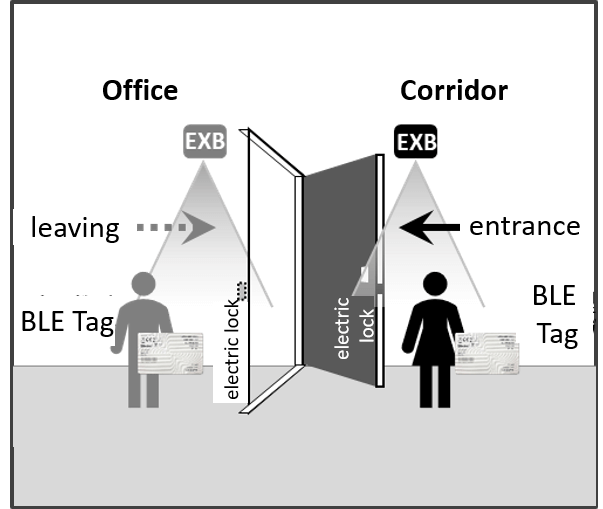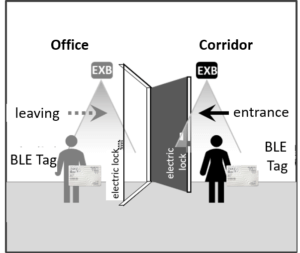 Environment-linked lighting/air conditioning control
It was jointly developed with a major air conditioning service company (BLE wireless subsystem in next-generation air conditioning system), a general construction company, and a major design office (human detection and air conditioning control system using motion sensor and EXBeacon platform).
It precisely measures and collects information such as temperature and humidity information of various offices, the presence or absence of people, etc., and controls lighting and air conditioning based on such environmental information.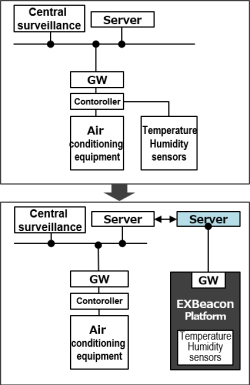 In the past, there was a pair of independent lines to networks for each service system in the building, such as management services, telephone services, and LAN services. Currently, it has been changing as the integrated line based on IP communication and Ethernet bundles the networks in the building, and new networks such as "local 5G" and "IoT dedicated LAN (or LPWA)" are being introduced.
The EXBeacon platform provides efficient building management services as a dedicated LAN for IoT.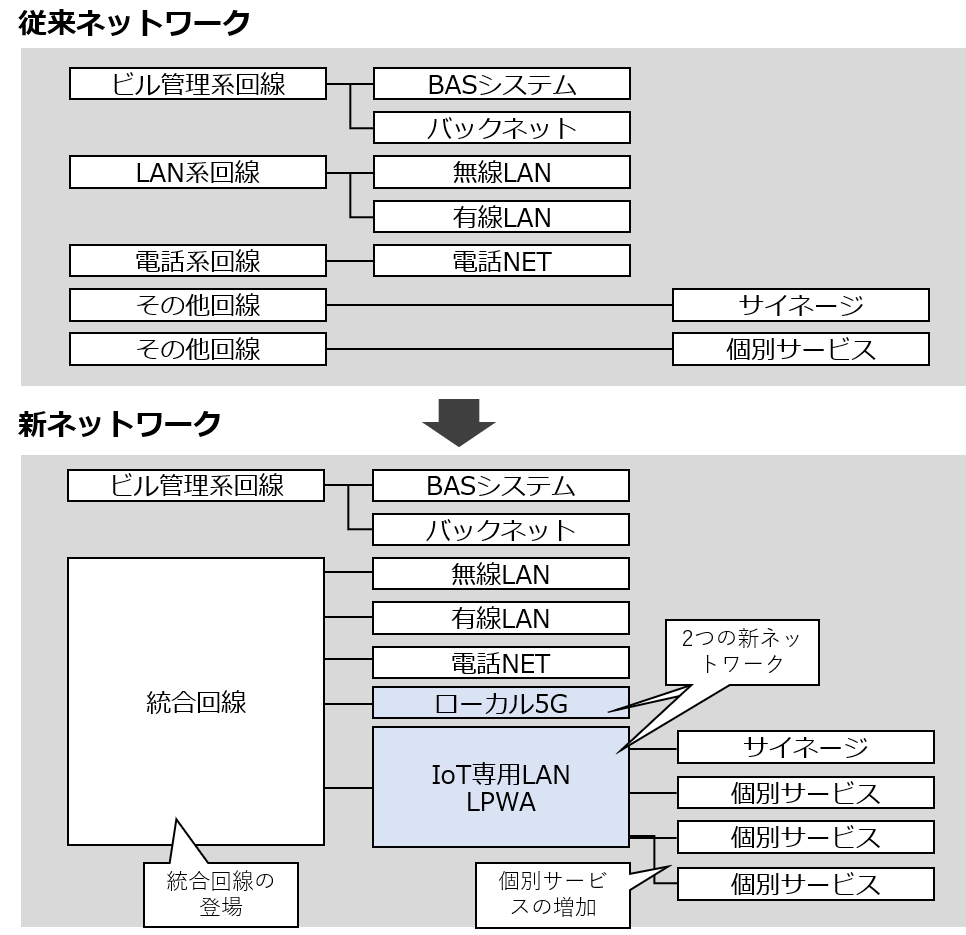 Introduction effect (excerpt)
At the time of renewal of BAS etc., services for common areas such as support for free addressing can be added at a low price. (Integrated services for the entire building can be provided without separating the common area and the tenant area.)
It is possible to reduce the cost by about 20% compared to the conventional building management cost (case of KYOWA EXEO headquarters).
With one single BLE card, one-stop service, including entrance and exit security, presence/conference room/attendance management, and telework support is available.
Lighting and air conditioning can be controlled and electronic locks can be opened and closed in real time according to the usage status of the building.
Microsoft Teams integration
Offering EXOffice on Teams
All EXOffice services are provided on Microsoft Teams. After confirming the presence status at the free address office and the holding status of the conference in advance, it is possible to select the other party to chat, set the video conference, and check the availability of the conference room. In particular, it will dramatically improve work efficiency by referring to local real-time information for communication-related work.
Meeting room forecast management in cooperation with Microsoft 365
By managing the meeting room with "EXOffice" based on the meeting room reservation information of Microsoft 365, it is possible to manage the schedule of the meeting room.
Grasping business activity
"EXOffice" is a tool to grasp the location of employees and the work associated with the location. By adding Microsoft Teams onsite information to this, the business activity of employees will be observed and daily reports of employees can be generated automatically.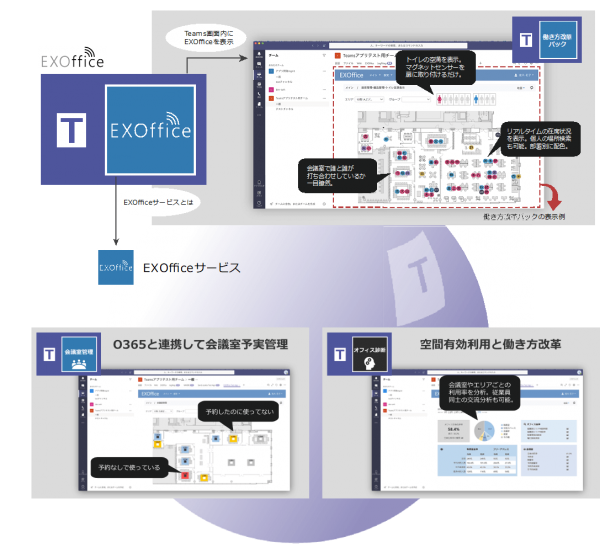 Dedicated app EXOffice App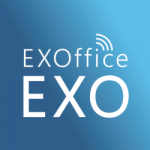 EXOffice App is an app (iOS/Android) for smartphones that users keep when using EXOffice services.
The position of the user is measured by using the smartphone as a transmitter instead of the BLE tag, or as a receiver to receive the radio waves of the transmitter placed in the office. In addition, it is equipped with more functions such as checking in reserved seats by receiving radio waves or reading QR for the hoteling service.
It is equipped with detailed application information, license information, password change, master update function, etc.
Along with displaying a list of users' current locations, the favorite registration function narrows down the display target users.
The current location of the user is displayed as an icon on the indoor map.
Features for hoteling services. Book a seat from the indoor map.
Reservation list function
It lists reserved information for hoteling services.
In addition to automatically checking reserved seats by receiving radio waves or reading QR, you can also manually check the start and end of work at home.
It creates a daily report that records check-in/check-out times.
System configuration and EXOffice App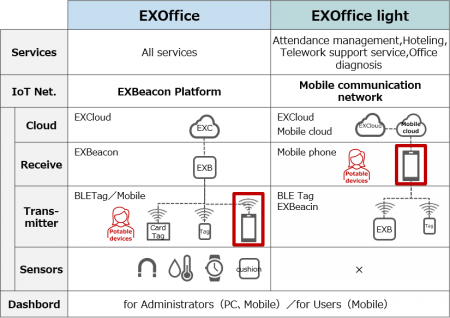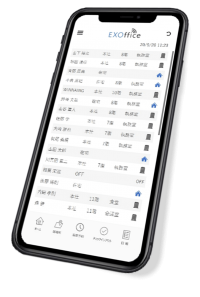 EXOffice App can be used with the following versions.
There are no particular model restrictions.
■ iOS
The latest 3 versions including the latest version
■Android
The latest 3 versions including the latest version
<Notes>
The above information is the results of an independent investigation by WHERE, Inc. We do not guarantee or support the contents.
Please note that there may be specific restrictions depending on the OS version, manufacturer or model that you use, or the OS / the model that has just been released.
The terminals that can be used are limited to those sold in Japan.
IoT infrastructure for EXOffice
EXOffice measures by introducing the "EXBeacon platform" in the office and receiving the BLE tag of the employee or the radio wave of the smartphone.
On the other hand, EXOffice light uses a smartphone communication network. Positioning is performed by the smartphone as a receiver to receive the radio waves of the BLE tag.
System configuration and EXBeacon platform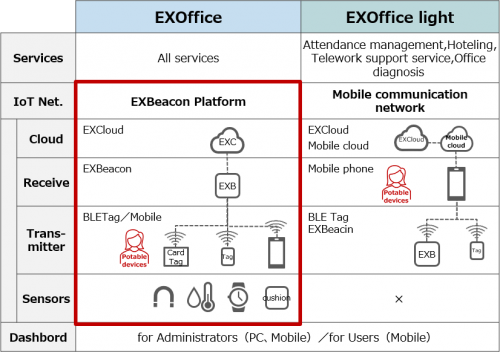 The EXBeacon platform is an IoT infrastructure. It will realize a digital twin in the office by collecting location information of people and things and environmental information of the office space.
Adopting "WHERE mesh" using Bluetooth, 1 to 3 gateways (EXGateway) per 1 floor (block) and appropriately deployed EXBeacon as a repeater (transponder) in various places in the office form a network. This network receives radio waves from employees' BLE tags and sensors.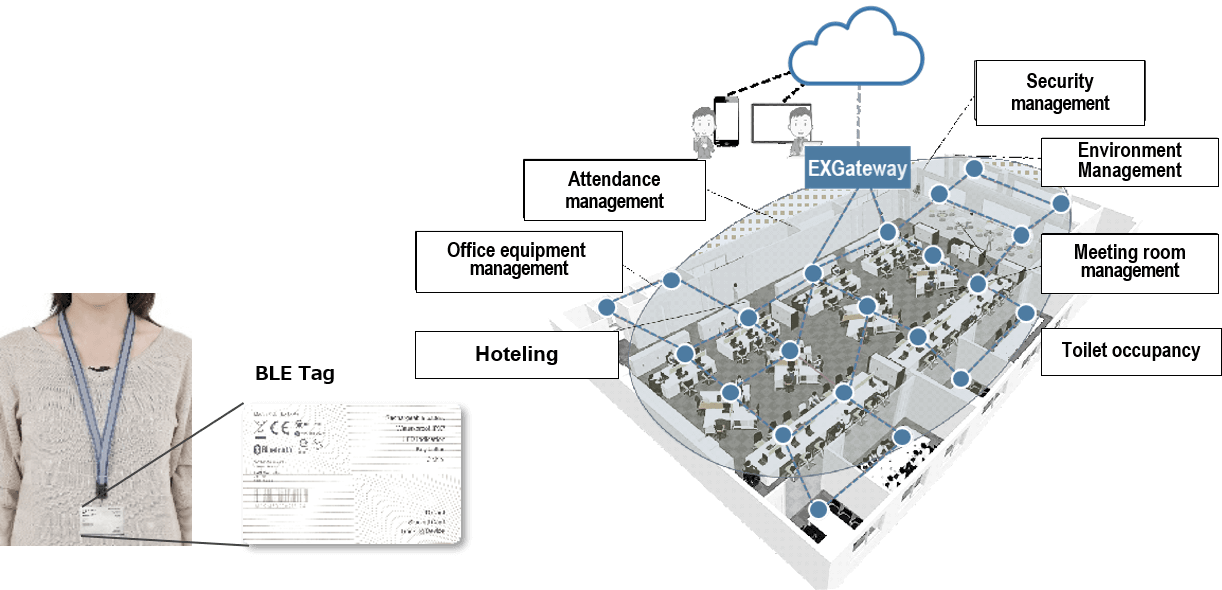 EXGateway: It sends the data collected by BLE network to the cloud via LTE/LAN, etc.
EXBeacon: Installed on the ceiling or tabletop, it collects information from BLE tags or EXTx Air.
EXSensor: Various sensors can be mounted on ordinary EXBeacon devices. (Temperature/humidity, PIR, etc.)
EXTx: Battery-powered BLE tag. The transmission interval can be adjusted according to your business requirements.
EXTx Air: Rechargeable card-type BLE tag. The transmission interval can be adjusted according to your business requirements.
EXBeacon, EXTx, EXTx Air and BaseX are registered trademarks of WHERE, Inc.
Learn more / Terms of use
The terms of use of EXOffice and EXOffice App are available here.