Medical insutitutions are facing "Working Style Reform" as an urgent issue. The application of the upper limit of overtime work with penalties to doctors is approaching the start of enforcement in April 2024.
EXHospital is a new solution that promotes work style reforms and operational efficiency by introducing IoT infrastructure to hospitals.
It provides various services, including "Automatic attendance management service" that collects the location information of medical staff and various sensor information and automatically collects working hours, "Location management service" and "Environmental management service" that contribute to work efficiency by visualizing hospitals.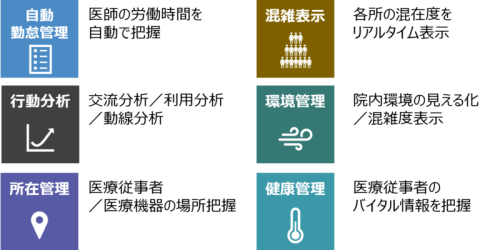 Automatic attendance management service
Automatically grasp the working hours of doctors
"Working Style Reform" requires medical institutions to reform without any time to waste. However, even if the time card stamping is simply introduced, it is difficult to deal with the complicated working conditions of doctors, it takes extra time, and the acquired data is not accurate.
EXHospital is a service that automatically collects working hours accurately without stamping. The attendance status (hospital time and place) is displayed on the dashboard on a daily / weekly / monthly basis, and the data is linked to the attendance system of each hospital by data output and API linkage. In addition, we will analyze not only the behavior of doctors, but also their network based on the collected data.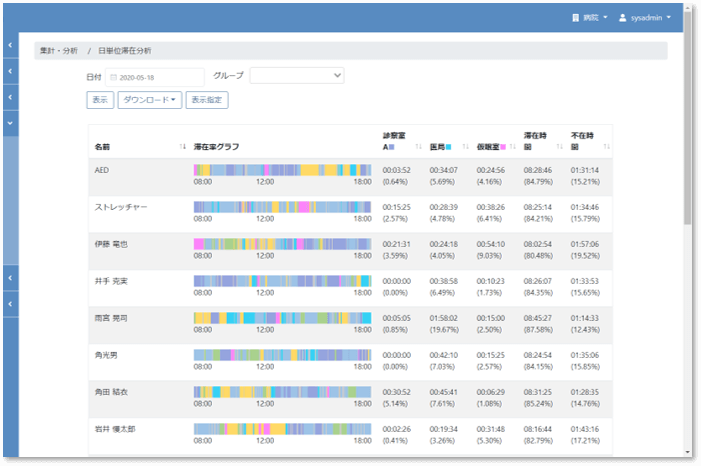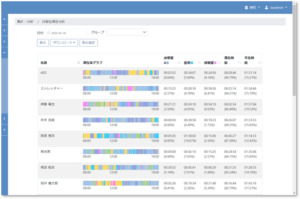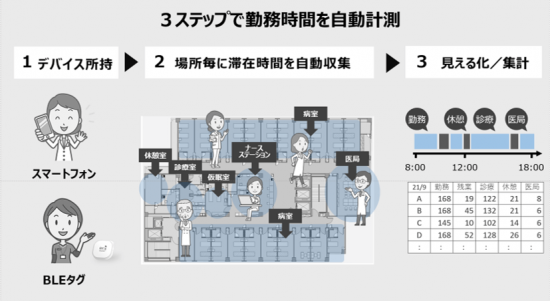 Real-time display of congestion in various places
The congestion level (ratio of the number of users to the capacity) in each area of the hospital such as outpatient department, waiting room, lounge, and resting room is displayed in real time on the dashboard.


Location of medical staff / medical devices
Visualize who is where on a hospital map in real time. You can also search from the list, saving you the trouble of searching for people. It can also be used to identify the location of medical equipment and to detect wandering by attaching it to patients.


Contact analysis / Usage analysis / Flow line analysis
Based on the acquired data, we perform various analyzes related to people and areas and display them on the dashboard.
"Contact analysis" visualizes who interacted with whom, where, and when.
"Usage analysis" visualizes the staying time in each area during the specified period and grasps the usage status of each place.
"Flow line analysis" visualizes the movement of each person and grasps the amount of movement from a bird's-eye view.
Visualization of hospital environment / Congestion degree display
Sensor information such as temperature and humidity of the hospital room, ventilation status (CO2, etc.) is acquired and displayed on the dashboard, and an alert is issued when the threshold is exceeded.
Grasp vital information of medical workers
Information from vital sensor information worn by medical workers and patients is collected in real time and displayed on the dashboard. An alert will be issued when the threshold is exceeded.
Mechanism of collecting location information / sensor information
Introduce the IoT infrastructure "EXBeacon platform" to hospitals.
The position of medical staff is measured by communicating between EXBeacon (BLE transceiver) installed in various places in the hospital and smartphones or BLE tags (transmitters) carried by medical staff. At the same time, EXBeacon aggregates information such as temperature / humidity sensor and vital sensor.
Each EXHospital service is displayed on the dashboard on your PC or smartphone app.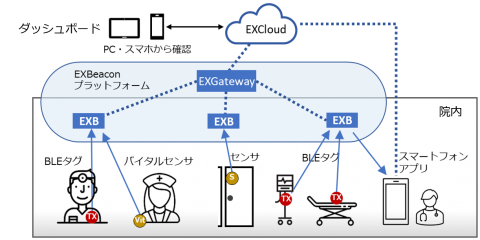 Cooperation with hospital system
In the case of hospitals, the IoT DB is connected not only to the EXBeacon platform but also to the in-hospital backbone system (HIS), systems for each medical department, and medical equipment to accumulate various information in the hospital.
IoT DB is the reality of the digital twin. 1) Providing on-site information as appropriate to HIS and systems for each medical department, 2) Providing medical support services at all times, 3) Analyzing stored information using various analysis tools ,to hold.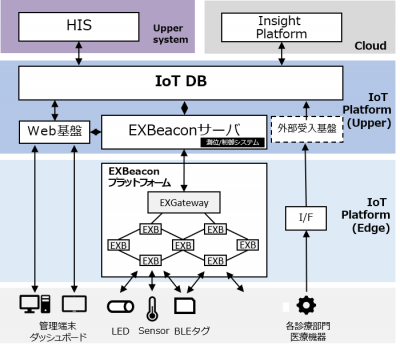 Managing high-priced medical equipment throughout the building
[Customer] Taiwan General Hospital
・ You can see in real time where expensive medical equipment has moved on each floor of the ward. You can also track which floor you have moved.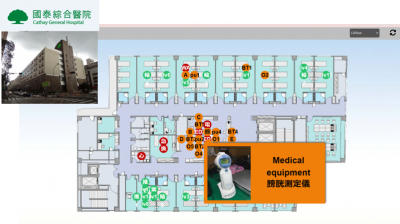 Care facility employee stress level collection system
[Customer] Major care service company
・ Vital sensor information is used to collect and analyze vital information (stress information) of nursing care facility employees, which can be used to improve employee operations to prevent employee turnover and assaults on users.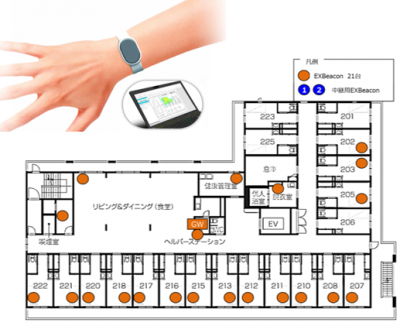 Smart hospital demonstration experiment
[Customer] Juntendo Clinic / Softbank Corp.
The first stage of the smart hospital, providing solutions for nurses to improve the efficiency of nursing work using ICT. The nurse schedule, task details, position, etc. can be visualized to support smooth collaboration and optimal staffing.